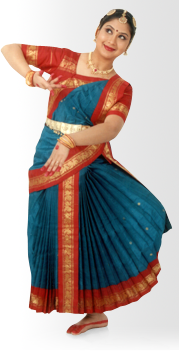 Namaste!
I welcome you to Nrityabhakti Dance Academy, an institute devoted to dance. Here you will learn and perform various types of Indian dance forms.
The major dance form at the academy is the Indian classical style "Bharatnatyam". Besides the classical style, we also perform semi-classical and Indian folk style dance.
I started the academy in 1997 in Pune, India after receiving masters degree in Bharatnatyam from Pune university. I have been learning Kathak and Bharatnatyam since age of ten and was blessed with guidance from Guru Sucheta Chapekar. In Kathak, I obtained Visharad Degree from Gandharva Mahavidyalaya. During these years of association with dance, I have performed in many programs in India as well as in the San Francisco bay area.
I also have performed in the Indian TV serial based on famous GEET RAMAYANA. I have been part of various cultural activities in bay area since year 2000 and was chief performer and choreographer at Marathi Sahitya sammelan at San Jose in 2009.
Dance is not only the media of total enjoyment but also enriches the personality of the students. It helps them by developing various social skills including graceful movements, stage confidence, self confidence as well as social networking skills. It also provides an opportunity to connect to and relate to Indian culture.
I welcome you to Nrityabhakti Dance Academy and urge you to take advantage of the trial session offered by the academy.
Supriya Puranik
Indian Classical Dance Teacher