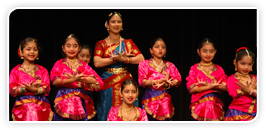 Supriya as dance teacher is able to update and rejuvenate her knowledge, which is very essential in any teaching activity. One of the distinct features of Supriya's teaching method is the creation an intensive learning environment
more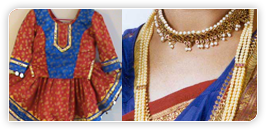 Bharatanatyam and folk dances require specific costumes. Supriya has big collection of dance costumes and jewellery. We have complete imitation dance jewelry sets with belt, long chain, necklace, bangles, jimiki, nath, head-set, mattil and Rakodi.
more

Nrityabhakti Dance Academy presents,
"Nrityankur 2016"
Discover the variety of performances
you can enjoy in this show!
Performed by 80 Participants from Bay Area

Date: Saturday, May 21th 2016
Time: 4:30 pm
Venue: Shirdi Sai Parivaar
1221 California Cir, Milpitas, CA 95035

Tickets: $10 per person
more