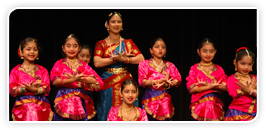 Supriya as dance teacher is able to update and rejuvenate her knowledge, which is very essential in any teaching activity. One of the distinct features of Supriya's teaching method is the creation an intensive learning environment
more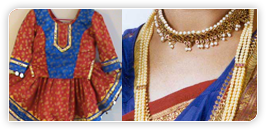 Bharatanatyam and folk dances require specific costumes. Supriya has big collection of dance costumes and jewellery. We have complete imitation dance jewelry sets with belt, long chain, necklace, bangles, jimiki, nath, head-set, mattil and Rakodi.
more

Nrityabhakti Dance Academy presents,
"Nrityankur 2018"
Students of Nrityabhakti are
performing a traditional Bharatanatyam Margam!

Date: Saturday, March 31st, 2018
Time: 4:30 pm
Venue: Smith Center Ohlone College
43600 Mission Blvd, Fremont, CA 94539

Tickets: $10 before March 20th, $15 at the door.
Kids 3 and under, no ticket

more