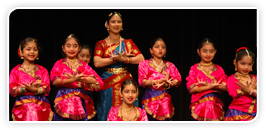 Supriya as dance teacher is able to update and rejuvenate her knowledge, which is very essential in any teaching activity. One of the distinct features of Supriya's teaching method is the creation an intensive learning environment
more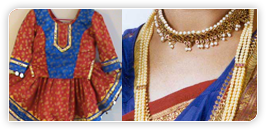 Bharatanatyam and folk dances require specific costumes. Supriya has big collection of dance costumes and jewellery. We have complete imitation dance jewelry sets with belt, long chain, necklace, bangles, jimiki, nath, head-set, mattil and Rakodi.
more

Nrityabhakti Dance Academy presents,
"Nritya Shrinkhalaa"
Enjoy Dancing Classical,
Semi Classical & Folk Style Bollywood dances
No prior experience needed in dance

Date: Saturday, May 9th 2015
Time: 5:30 pm
Venue: Mexican Heritage Plaza, San Jose
Enrolling Now!!
more